5 Star Business is becoming Liftify!
5 Star Business is rebranding to Liftify! As our business continues to grow and evolve, we need a brand that reflects our vision for the future. It is time to take things to the next level.
Scroll for more info and RSVP to our launch event below.
Thanks to our incredible customers!
400%
Year over Year Growth
A Message From Our Founder & CEO
"The way that both B2C and B2B buyers make purchasing decisions has fundamentally shifted over the last few years. Buyers now form opinions about a company and make decisions based on other's experiences.
We all do it - whether we are shopping online, traveling, buying from a local business, or even choosing a show to stream - the first thing that most of us do is look at the ratings and reviews. In a matter of seconds we deduct what the best option is and what action we need to take.
We believe strongly that this trend will continue and and only accelerate in the future. Businesses with the best online reputation will win in the long term. Period.
Most businesses have not adjusted to this dramatic shift in buyer behavior. Current processes and systems are still only focused on internal metrics and ratings (ie. NPS), with public reviews and online reputation being an after thought.
We are on a mission to shift the narrative and help businesses understand and reap the benefits of building a strong online reputation. While internal metrics will always be important and continue, the companies that focus on and prioritize building a strong online reputation will win.
Our proprietary solution has elevated 100s of local businesses and they have seen tremendous growth in SEO, leads, and revenue. We are excited to continue to invest heavily in our solution, team, and brand so that we can help more great local businesses stand out from the competition and win in today's marketplace.
Zach Garrett
Founder & CEO
Celebrate with us!
On June 7, 2022 we'll be hosting an event in Indianapolis, IN to celebrate our rebrand to Liftify. Join fellow entrepreneurs with complimentary beer, wine, and appetizers.
We'll also have a panel of business owners where we'll discuss the trends and challenges of entrepreneurship, and their tips for tools and strategies for your business.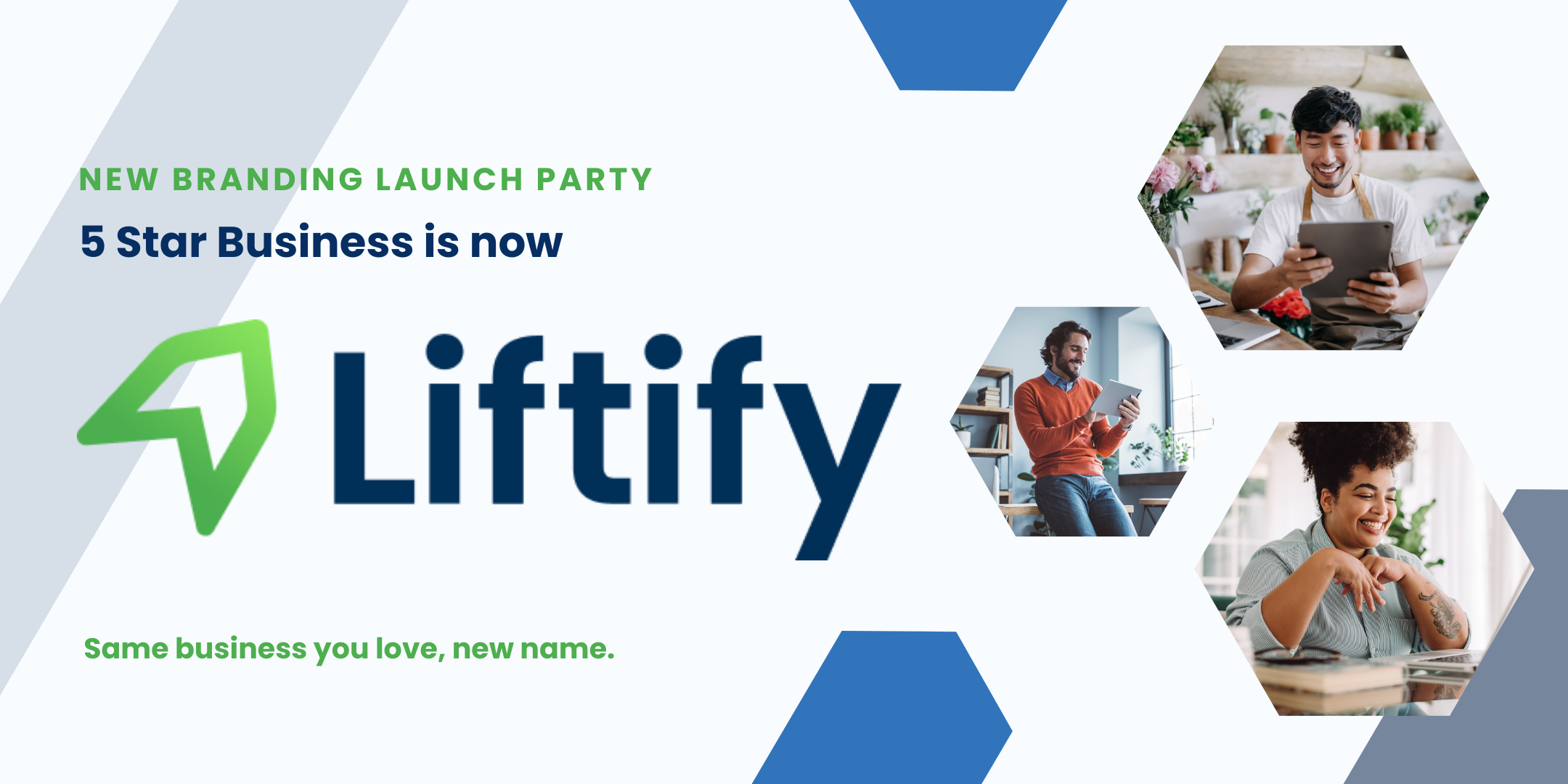 Q&A
We're still the same people, same company you love. Your partnership has helped us evolve into a name and brand that exemplifies what we're about: Uplifting our customers.
We believe that building a strong online reputation is one of the most critical things a company must do in today's world to win.
B2C and B2B buyers are making decisions based largely on the reputation of a business and this will only continue to become more important over time.
Our vision is to be the best company at helping businesses build a strong online reputation. That goes well beyond just the 5 star review and we felt we needed a new brand that embodied the vision we have for the future.
When founder and CEO Zach Garrett started 5 Star Business to help local businesses during the early days of the pandemic 2 years ago, it was with one goal in mind: Lift entrepreneurs and local businesses up by helping them share their amazing customer stories by accelerating their online reviews.

We are more convinced than ever that building a strong reputation is a cornerstone of a successful business in today's environment. As we talk to our customers about why they love working with us - two key themes emerged.
1. What we do "lifts" SEO rankings, lead volumes, close rates, team morale, overall reputation all go up when companies work with us
2. We "simplify" the process and make it super easy for them so they can get results without adding workload to their team.
As we worked towards a brand name that would reflect the future of our vision for the company, we decided to rebrand our business to a name that embodies the 2 things that matter most to our customers—"Lift" and "Simplify" = Liftify.

As of May 12, 2022, 5 Star Business will be Liftify! We're still the same company and the same people, with the singular vision to accelerate your business through scaled online reviews.
Our company's new name and branding does not affect how our current customers, or soon to be customers, will use our product.
This evolution in our new name and branding is a reflection of the value our current customers see in our product.
Continue to use the same systems, processes, and logins that you currently do in your interactions with Liftify.
We were not acquired; we're the same company. This new name and branding is the next phase in our vision to continue delivering unparalleled value to business owners, franchises, and enterprises that seek to accelerate their online reviews to drive higher SEO and more organic (and quality leads), so they can focus on growing their business.
Zach Garrett is still leading the team and we are actively working to make several additional hires to support our current customers, roadmap, and continued rapid growth.
Have more questions about our evolution to Liftify?
Reach out to our team at info@liftify.com.